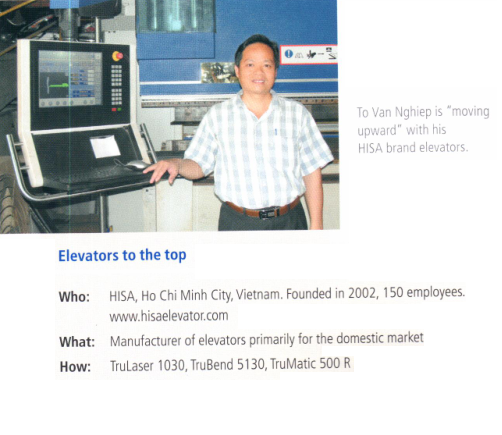 "The staff is the driving force behind a successful company"
"The staff is the driving force behind a successful company"
Training seminars and short courses. And then they learn from each other , He says. He mean to continue acting as a true partner for his employees and customers – even though there are still some obstacles to overcome. With inflation running at close to 20 percent, even minor purchases are significant. If we need a bank loan from commercial banks for implementing projects for new investments, the lending interest rates are 22 to 25 percent per annum. We have to obtain profits high enough to cover such high costs for capital, he reports.
But Hisa remains optimistic. The economy is growing – the Asian Development Bank expects gross domestic product to increase by 5.8 percent in 2011 and 7 percent in the medium term. However, analysts from the government agency "Germany Trade & Invest" do not expect Vietnam to rich its official goal of attaining the status of an industrial nation by 2020.
In spite of this prospect, To Van Nghiep is certain that things will keep going up – literally. Since he went into business for himself in July 2002 by founding HISA in Ho Chi Minh City in the country's south, he has become a major elevator manufacturer. In the beginning we had to contract for parts externally and build one elevator per month, he recalls. The he acquired his own machines – and things have been looking up ever since. Today we produce 100 elevators a month with 150 employees, he declares with pride. Hisa sells 60 percent of its elevators in the private sector, with the rest going, for instance, to construction firms for hotels and office building mainly the domestic market. The neighboring countries of Laos and Cambodia are to follow soon – because HISA is expanding. We are currently building a new production facility. With this plant, we plan to increase our production to 500 elevators per month, Nghiep explains.